MISS EDUCATION
A Delegated Performance by Humberto Vélez as part of the Venice Biennale 2015The Latin American Pavilion on the 56th International Art Exhibition—La Biennale di Venezia is dedicated to the theme "Indigenous Voices—Voces Indígenas" and is hosted by the Istituto Italo-Latino Americano with the support of the Goethe-Institut. The pavilion is presenting a sound installation consisting of 17 independent artist's works.
As part of the exhibition Humberto Vélez is presenting the performance Miss Education. For the first time in history, a beauty pageant is here actively participating in the creation of artwork. Miss Education is a performance that began as artistic intervention at the "Miss Panama" contest. Luis Camnitzer — renowned artist, pedagogue, and critic — conceived the intervention during the international forum titled "VISITING MINDS. Radical Pedagogy: Art as Education," held in Panama City in May 2013.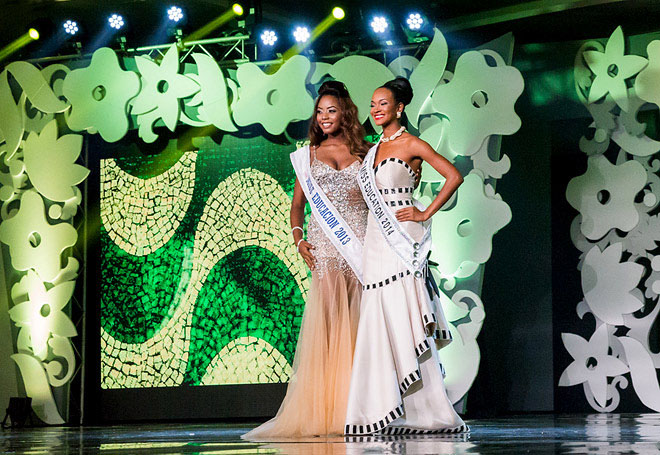 For the purpose of confronting artistic and intellectual prejudices by exploring elitist and common stereotypes of art, education, and beauty through the lens of mass media events and popular culture, Luis Camnitzer served as jury president of "Miss Panama" and personally chose a new "Miss" with the title of Miss Education. With this action, Humberto Vélez wanted to challenge the concepts of contemporary art and education by mingling situations and attitudes of the sophisticated art world with a beauty pageant of great popular and media impact.
Vélez has been invited to participate with Miss Education in several other venues. After Montevideo and Havana the Venice Bienniale is following now. As the elected Miss Education of 2014, Yomatzy Hazlewood is participating in the 56th Venice Biennale. She was also crowned Miss Panama and therefore ran for the title of Miss Universe. A medal-winning track meet runner and an English major in college, Hazlewood comes from a humble working-class family. For the opening of the Latin-American Pavilion, Miss Education will present a short speech about stereotypes and preconceptions of Latin Americans that currently translate into a certain "pornoexoticism" in fine arts. In her speech, she will include a message from the Gunas, a leading First Nation group from Panama, commenting about indigenous cultures and contemporary art.
Miss Education has become a permanent title in the "Miss Panama" contest and is now one of the most coveted by the participants, who now make more emphasis on the importance of education and activism.
The exhibition "Indigenous Voices—Voces Indígenas" is a project of the Istituto Italo-Latino Americano (IILA in Rome) and is being made possible through the support of the Goethe-Institut and the "Oi Futuro" Media Center in Rio.