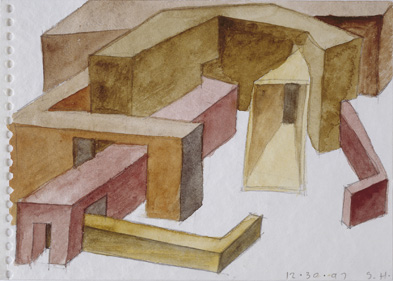 "You can walk around in their drawing forever," says Nadejda Bartels, director of the new Tchoban Foundation Museum for Architectural Drawing. She is talking about an architectural drawing by internationally acclaimed architectural studio Bow Wow, now on show as a part of their new exhibition New Acquisitions. Works on paper. 1967–2013 which runs from 12. April until 13. June 2014.
At the innovative museum, I was expecting to see blueprints, perfect straight lines and mostly, a lot of incomprehensible technical detail – but the museum's collection could not be further removed from that. "We try to show how the idea of a building is born, and how buildings are direct reflections of society," Nadejda Bartels explains.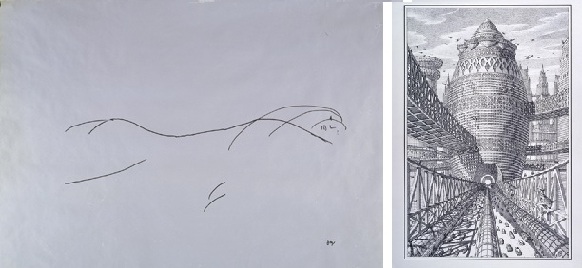 Moreover, the exhibitions at the museum show unexpected works, such as architectural fantasies – fictional buildings or even entire cities "which allow you to dream," as Nadejda Bartels describes it, "and imagine the future of your own city."
Fittingly, the entire building is a tribute to architectural design. Sergei Tchoban, the museum's founder and architect, chose three of his favourite architectural drawings by neo-Classical Italian architects. These classical works were transformed; they were enlarged and etched into the four playfully stacked concrete blocks that form the museum's dynamic façade, as well as into the wooden panels in the interior.
One of the works that was etched into the façade, and the museum building with the Kulturbrauerei in the background. Pietro di Gottardo Gonzaga, Set Design. Arcade with a flat roof on a town square, early 19th century, quill, dry brush and sepia, 44.8 x 55.2 cm and Tchoban Foundation Museum for Architectural Drawing © Roland Halbe
ghgh
The building, which was completed in 2013, is not diminished by its neighbours: the sprawling buildings of the Kulturbrauerei, the Aedes Architecture Forum and Ólafur Elíasson's large factory studio. It is hard to believe that the museum's building plot was only 12 by 8 metres in size. The dynamic exterior continues on the inside, which finely balances transparent design with enough hidden corners to keep things exciting.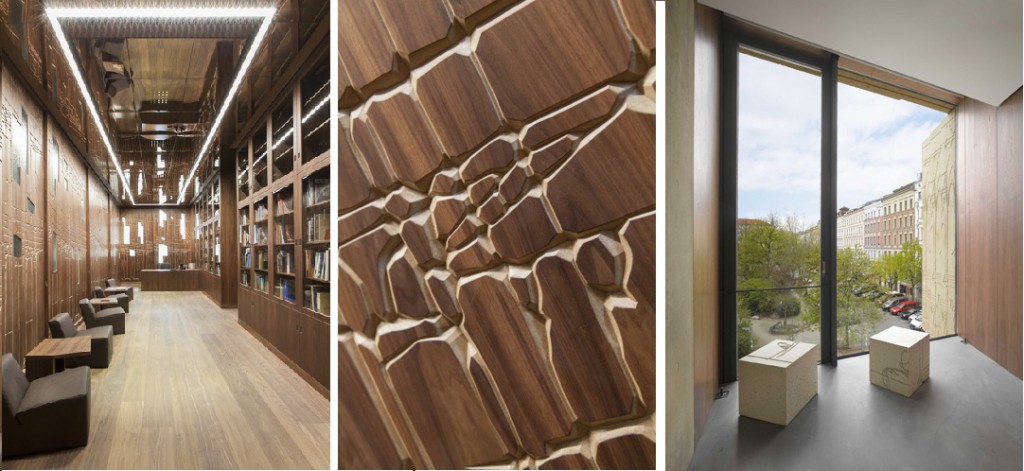 Upon leaving the museum, standing on top of Berlin's Pfefferberg, the architecture all around me suddenly looks very different to me. It is, as Nadejda Bartels says, that looking at the drawings, "is very different from the later steps in the design process, the computerised drawings, animations and models. In these drawings, you can not only see the architect's signature style in the way the draw, but," she adds, "also the soul of the building."
We cannot wait for the next exhibition, which is a highly anticipated exhibition of architectural fantasies by Lebbeus Woods, a famous American artist and architect, professor at the Cooper Union, New York.
New Acquisitions. Works on paper. 1967–2013. 12. April – 13. June 2014.
Tchoban Foundation. Museum for Architectural Drawing
Christinenstraße 18a, 10119 Berlin
Opening hours: Mon – Fri 2 – 7pm, Sat / Sun 1 – 5pm.
Tickets: 5,00 Euros, reductions 3,00 Euros