Sandra Kolstad begleitete uns und Anne vom Missy Magazine in die Ausstellung David Bowie. Norwegens Königin der elektronischen Popmusik ist nicht nur für extravagante Live-Auftritte und ihren androgynen Look bekannt, sondern hat sich – wie Bowie Ende der 70er – Berlin als Lebensmittelpunkt ausgesucht! Sandra ist seit ihrer Kindheit ein Fan von Bowie. Als Musikerin ist der Ausnahmekünstlers für sie eine große Inspirationsquelle: "Bowie lebt und arbeitet einfach ohne Beschränkungen: beim Musik Schreiben, beim Performen, in seinem ganzen Dasein. Er übertritt beständig Grenzen und bringt sie damit zum Verschwinden. Er kennt keine Regeln. Diese Art von Freiheit ist sehr wichtig für mich."
Das ganze Interview gibt es hier zu lesen.
What was most impressive about the exhibition?
The size and diversity. It really does cover all aspects of his career in a very nice way. I'm sure David Bowie would enjoy it himself as well.
What did you discover about David Bowie within the exhibition?
That he must have a 6th sense when it comes to picking the right people to work with. Within music, as well as fashion and art. And not only finding them, but also making it work in a good and interesting way: So that the cooperation would mean something new both to Bowie and to the one he was working with.
Please describe the exhibition with 3 words.
Overwhelming. Extravagant. Inspiring.
Sandra Kolstad ließ es sich nicht entgehen, einmal selbst Ziggy Stardust zu sein und nahm teil an der von Audi eigens für die Ausstellung konzipierten Fotoaktion!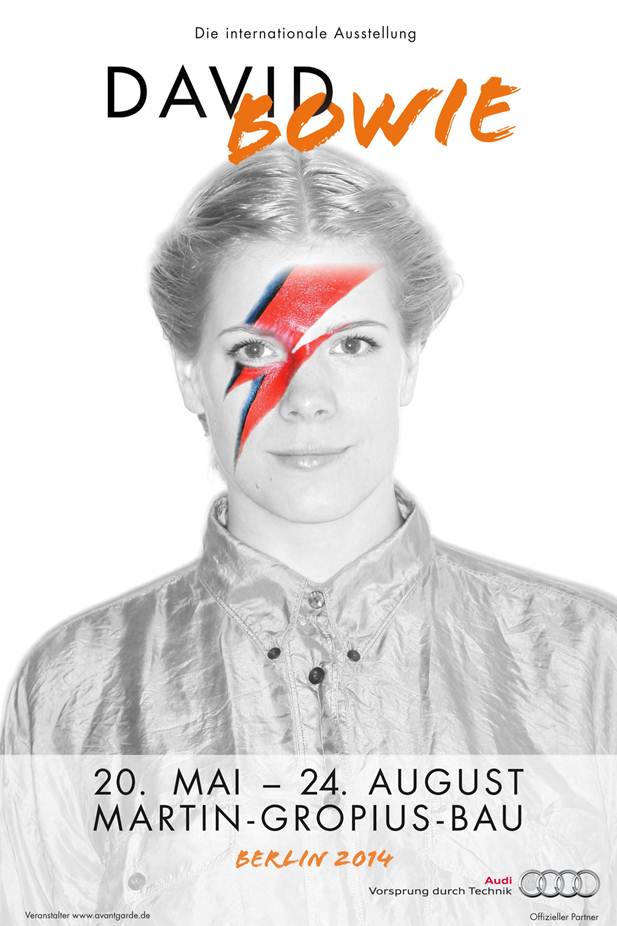 Die Ausstellung wurde verlängert und läuft noch bis zum 24. August. ONLINE TICKETS ZUR AUSSTELLUNG SIND AUSVERKAUFT. Es können nur noch Tickets an der Tageskasse des Martin-Gropius-Bau erworben werden. Weitere Informationen unter: www.davidbowie-berlin.de
Während der Ausstellung David Bowie gelten Sonderöffnungszeiten im Martin-Gropius-Bau: Täglich 10:00 – 20:00, Kasse schließt um 18:30.
Tipp:
Sandra Kolstad ist auch Teil der "Play Nordic". Noch bis zum 1. Oktober 2014 können Liebhaber nordischer Klänge, Kunst und Designs die Ausstellungen der Nordischen Botschaften in Berlin besuchen:
http://www.play-nordic.com/
Interview: Victoria Trunova