Im Gespräch mit Ralf Hänsel und Chicks on Speed
"Die Chicks on Speed sind Avantgarde-Künstler. Provokant, subversiv und interaktiv – mit großem Einfallsreichtum und Kreativität verschmelzen sie die Grenzen von Kunst, Musik, Poesie, Neuen Medien und Politik. Das Program meiner Galerie 401contemporary hat seit über einem Jahr das Comeback der wichtigen Künstlerin Mary Bauermeister (*1934) – auch häufig "Mutter des Fluxus" genannt – vorbereitet. Sie hat Anfang der 60er Jahre von Köln ausgehend massgeblich die intermediale und internationale Kulturszene geprägt. Jetzt kommen die Chicks on Speed nach Berlin! Mit ihrer Ausstellung DATASTRAVAGANZA knüpfen sie nahtlos an Mary Bauermeisters Intermedialität der 60er Jahre an. Wie in den 60er Jahren in Mary's offenem Atelier sind Ausstellung und Performances eng miteinander verbunden. Daher freuen wir uns die Eröffnung der Ausstellung DATASTRAVAGANZA mit einer "Artformance" im Radialsystem in Berlin zu kombinieren. Auf der ART COLOGNE 2015 ergänzen wir die Ausstellung auf unserem Stand ebenfalls um eine "Artformance" – dann mit den guest artists Mary Bauermeister und Peter Weibel."
(Dr. Ralf Hänsel, 401contemporary)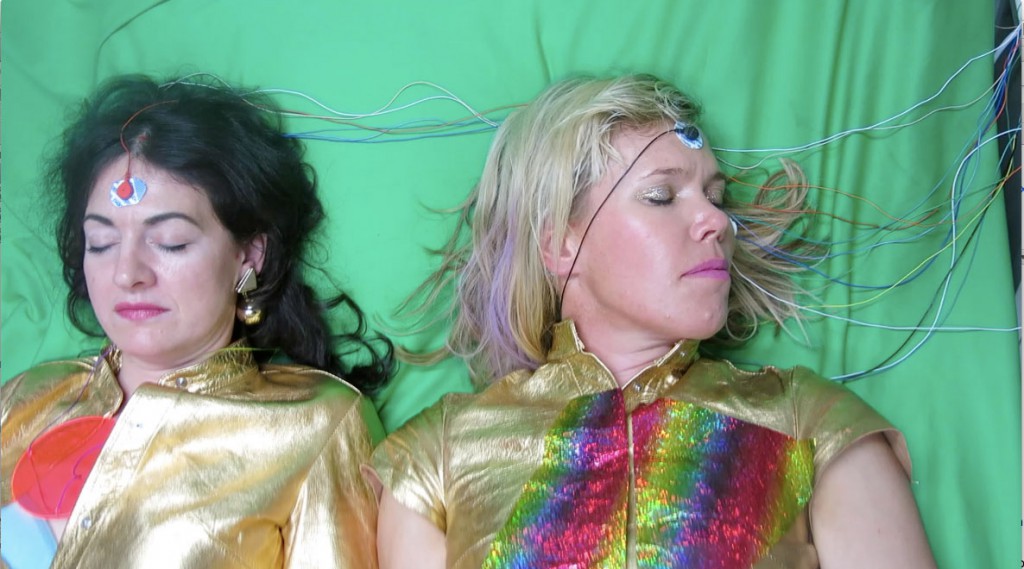 WIR SIND DATEN setzt sich auf Basis von Peter Weibels titelgebendem Song mit der Verwertung und Manipulation unserer Daten auseinander, kann Kunst hier aufklärerischer agieren als Snowden es vermag ?
Melissa: Wir Sind Daten is a song, it is beautiful and poetic, example: ' zwischen firewalls werden wir verbrennen' there are visions in it of the war that is being fought over the digital world, Google is taking the place of Empire governing systems by information collection, syphoning and AI /Robotics/ military. versus Freedom of information for groups and individuals, and the general public. Laura Piotras Film 'Citizenfour' is of course full of precise information as are the released sections of the snowden leaks from Glen Greenwald. Wir sind Daten erzeugt Bilder, vivid pictures and information which touch each of our lives in one way or another.
Welche "Produkte" entstehen für den Galerie-Kontext ? Wie verändert sich unsere Wahrnehmung dieser Produkte ?
Melissa: Bei 401contemporary werden neu entwickelte Arbeiten gezeigt. Die Chicks on Speed produzieren Kunst, aber sie produzieren nicht für den Kunstmarkt, d.h. die Arbeiten sind nicht im klassischen Sinne als Kunst konsumierbar. Unsere Installationen, Videos, Sound pieces und Object Instruments, everything we do touch can be "verwertbar" in this time and age. We are free in the art world and that we take advantage of.
Alex: Alex and Melissa's brain waves are for sale, the data has been visualised and sonified. The data contains their wildest avantgarde dreams and visual-acoustic compositions. Auto-generated-artworks they created in their sleep, eg: "sleep symphony" a piece of music they made of their own creative neural activity whilst sleeping. Piles of shiny junk and non-market art.
Als "performance"-Künstler spielt der live act eine zentrale Rolle in ihrem Werk. Könnt ihr uns beschreiben, wie ein Auftritt aussieht, der sich aus der oben beschriebenen Auseinandersetzung speist ? Ihr plant in Berlin eine "Artformance" anlässlich Eurer "record release party" im Radialsystem am 6. Dezember.
Chicks on Speed: One of the aims of the new live show datastravaganza was to use technology to double, transform, enhance the body and extend the body through media in a live art/digital performance setting, something Marshall McLuhan has written a great deal about, in his book "Understanding Media". It's this idea of creating a worn media environment which interested us and colliding the analogue and digital in a live all encompassing artwork. We created 6 interactive apps at ZKM centre for art and media, Karlsruhe, as audio visual musical instruments (DMI digital musical instruments) to use on stage during our artformances. These apps are at the core of the new performance, they are tools for us and for our audiences to live create with. By using the apps the audience is transformed into a co-author of the performance, a "prosumer" producer/consumer – it's as if the audience completes the gesamtkunstwerk through using the powerful app tools.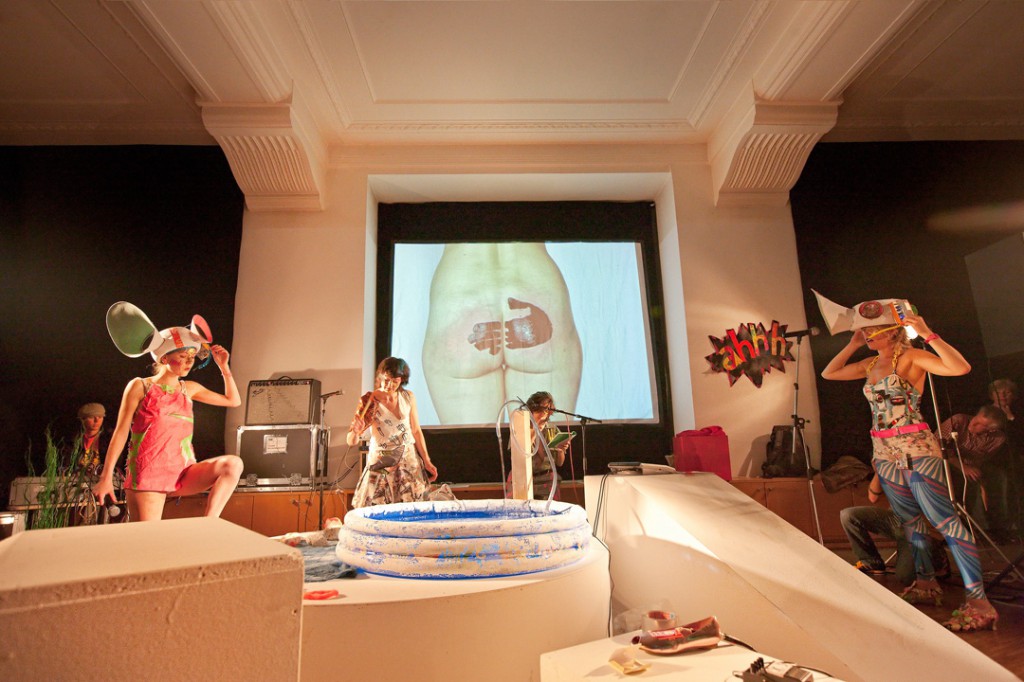 An welches Publikum richtet sich Eure "Artformance"? Lösen sich die Grenzen zwischen Publikum und Bühne durch den Einsatz von digitalen Mitteln stärker auf als zuvor ?
Melissa: Wir sprechen ein vielschichtiges Publikum an. Die Texte unserer Lieder sind kompliziert und nicht sofort eingängig, die Musik hingegen ist tanzbar und leicht zu konsumieren. Man kann also sein Gehirn abschalten und einfach genießen, aber man sollte den Inhalt der Lieder nicht komplett aussen vorlassen. Das digitale Zeitalter ermöglicht eine Nähe zwischen Perfomer und Publikum, die früher nicht denkbar war. Diese Nähe ist zum einen positiv, zum anderen kann es aber schnell zu viel Intimität geben, alles dies reflektiert sich in den Performances. Gleichzeitig ist es wichitg den digitalen Mitteln keinen zu großen Raum zu geben oder sich in den Möglichkeiten zu verlieren. Die Technik ist Mittel zum Zweck, sie hat keinen eigenen Inhalt.
Alex: The audience members are diverse and all ages, that's the beauty of it, it's important for Melissa and I to attempt to break down the typical rock or pop stage / audience hierarchy into a participatory democratic experience through the apps and other object instruments of our group. We'd prefer chaos and the audience taking over the show vs a pristine pop show, it's all about the creative process live, messy, on and off stage via an important dialogue with the audience, I see it like live performance research, we don't know the outcomes before we start.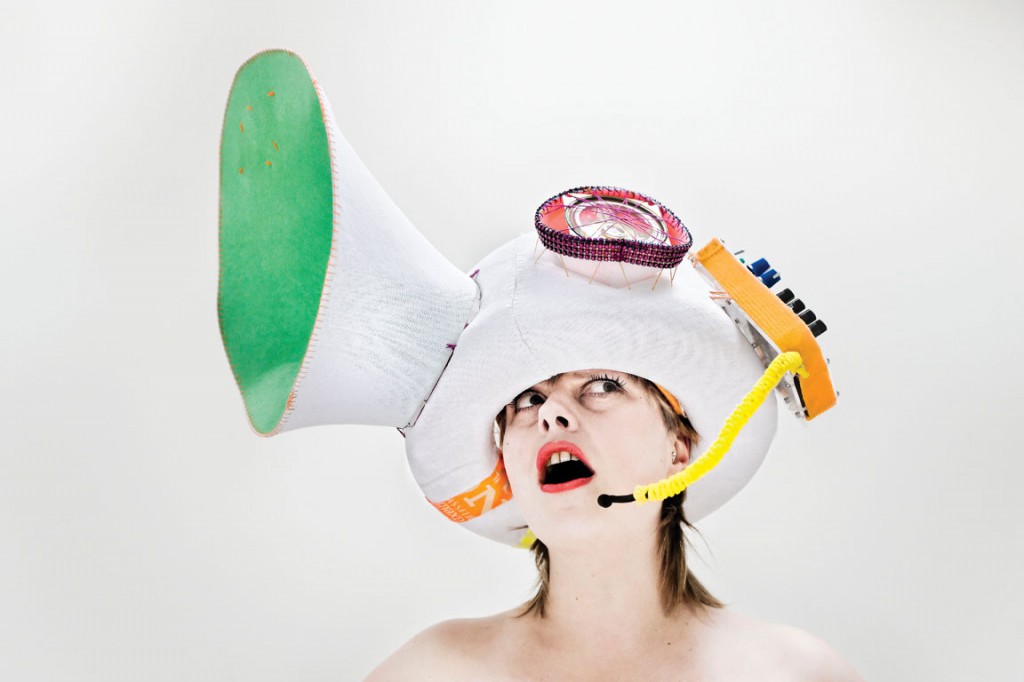 Was unterscheidet eine Platte von COS von einer Artformance ?
Chicks on Speed: Easy! They are opposites, the record is an artifact, like dead art in a museum, the artformance is confusing, living and brutal!
Was macht Euch Spaß ?
Chicks on Speed: Working hard being an artist, creating an art of living and living ones art.
Danke – wir sehen uns bei der Ausstellung und auf der After-Show- Party – die Tanzschuhe sind eingepackt!
Interview: Ute Weingarten
DATASTRAVAGANZA
401contemporary
Potsdamer Str. 81 B, 10785 Berlin
7. Dezember 2014 – 28. Februar 2015, Vernissage: 6. Dezember 2014, 18h
WIR SIND DATEN (We are data)
6. Dezember 2014, 22h
Artformance zur Eröffnung von DATASTRAVAGANZA
und Release des neuen Albums ARTSTRAVAGANZA
im Radialsystem Berlin, Holzmarktstrasse 33, 10243 Berlin
Tickets: www.radialsystem.de